Umbraco - Enkelt, skalbart och tryggt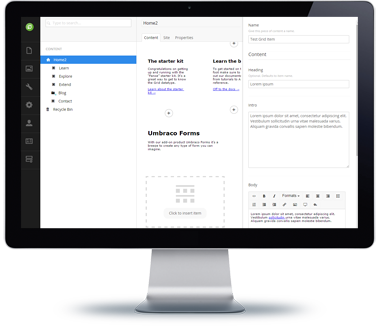 Umbraco är ett publiceringssystem för hemsidor som gör det möjligt för vem som helst att enkelt uppdatera hemsidan. Ketchupföretaget Heinz och lagringsexperterna Scandisk är några av de större företag som valt att jobba med Umbraco.
En av de stora fördelarna med Umbraco är att det bygger på öppen källkod vilket gör att systemet både är gratis och att det finns tiotusentals utvecklare som behärskar systemet.
Hur vet jag att jag ska använda Umbraco?
Projektet med att skapa en ny webbplats börjar med att vi sammanställer era krav och önskemål, utifrån detta arbete kan vi enkelt se om Umbraco passar bra för projektet.
Vi på Enkel Media har många nöja kunder som valt Umbraco, därför vet vi att det är ett publiceringssytsem som verkligen fungerar till både smått och stort, "trots" att det är helt gratis!
Om du har frågor eller behöver hjälp kontaka oss oss gärna!
Här hittar du blogginlägg relaterade till Umbraco
When working with Umbraco Forms there are some scenarios when you want to extend the functionality to perform something custom. Every time a Form is submitted a new Record is created for this Form, this Record is stored in the database and also passed to all Workflows that are configured on the form. In our case we wanted to implement a HoneyPot to avoid some of the SPAM that comes through the fo...