Umbraco CMS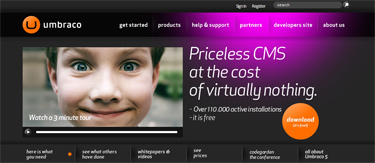 Umbraco är ett publiceringssystem för hemsidor som gör det möjligt för ägaren att, helt utan kodkunskaper, uppdatera hemsidan. Umbraco grundades av danska utvecklaren Niels Hartvig redan i början av 2000-talet och släpptes några år senare som open source, dvs helt gratis.
Vi på Enkel Media har flera nöja kunder som valt Umbraco, därför vet vi att det är ett publiceringssytsem som verkligen fungerar till både smått och stort, "trots" att det är helt gratis!
Tveka inte att kontaka oss om du har frågor eller behöver hjälp.
Today my blog post for 24 days in Umbraco was released. The topic is "The code that changes my life".     This is a great Christmas tradition where the community posts one article per day up until Christmas! Head over to the site and read about some really interesting topics for example:   Effective Umbraco Development in 2016 Strongly typed vs. Dynamic Content Access Recreating the listview in ...